2022 Helena Township Meeting Schedule
Public Hearing for Special Use Permit.  May 10, 2022.  6 PM at the Community Center, 8751 Helena Road, Alden.
Alden Memorial Day Parade, May 30, Monday 1pm.
Join Alden to honor our fallen Heroes at the parade and memorial services at the
Depot Park Veterans Memorial.
Also a service at the Cemetery afterwards.
Parade entries call or email Butch @
231-590-3888 or
bpsafety10@gmail.com
Floats, veterans, groups, and old cars.
Pickleball rules updated Jan 2022
Helena Township
Helena Township has many fine features. Coy Mountain walking trail, Depot Park, Tennis Court Park, Ballpark, Safe Harbor, plus 17 public access sites. Helena Township benefits from many groups, including the Alden Volunteers, Helena Township Historical Society, Alden District Library, Friends of the Library, Downtown Alden Business Association, Juniper Garden Club, and Torch Area Artisans Guild.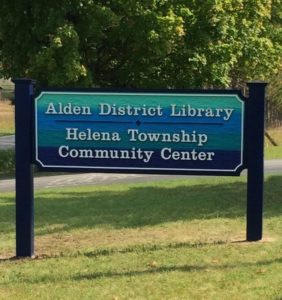 You can reach the Helena Township office at (231)331-4643. Our hours are 9 to noon Monday thru Friday. Clerk's days are Monday, Wednesday & Friday Supervisor's day is Tuesday and Treasurer's day is Thursday.