---
THANK YOU VOTERS FOR YOUR SUPPORT OF THE ROAD MILLAGE. 
There were 322 voters, 194  Absentee Voters and 128 in person.  Finally tally was 178 Yes, 143 No, 1 with no vote. 
Thank you for voting. 
Respectfully, Helena Township Board.  
---
Please use this link to review the Parks & Rec 5-year Plan revisions.  Public hearing will be December 13th at 7 PM at the Community Center.
---
Helena Township
Helena Township has many fine features. Coy Mountain walking trail, Depot Park, Tennis Court Park, Ballpark, Safe Harbor, plus 17 public access sites. Helena Township benefits from many groups, including the Alden Volunteers, Helena Township Historical Society, Alden District Library, Friends of the Library, Downtown Alden Business Association, Juniper Garden Club, and Torch Area Artisans Guild.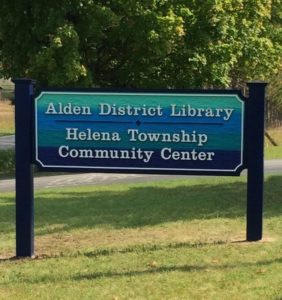 You can reach the Helena Township office at (231)331-4643. Our hours are 9 to noon Monday thru Friday. Clerk's days are Monday, Wednesday & Friday.  The Supervisor's day is Tuesday and the Treasurer's day is Thursday.