2020 Helena Township Meeting Schedule
PUBLIC HEARING — HELENA TOWNSHIP ZONING BOARD OF APPEALS  June 15, 2020 7:00 PM
Application site plan for storage buildings:  Condensed Site Plan
Support documents available by email only at this time.  Please email:  helena@torchlake.com or bonnie_robbins@hotmail.com  to request a copy of the application, notes, and site plan.
COVID 19 INFO LINKS FOR ANTRIM COUNTY RESIDENTS AND BUSINESSES
Helena Township
Helena Township has many fine features. Coy Mountain walking trail, Depot Park, Tennis Court Park, Ballpark, Safe Harbor, plus 17 public access sites. Helena Township benefits from many groups, including the Alden Volunteers, Helena Township Historical Society, Alden District Library, Friends of the Library, Downtown Alden Business Association, Juniper Garden Club, and Torch Area Artisans Guild.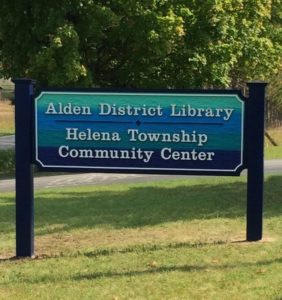 You can reach the Helena Township office at (231)331-4643. Our hours are 9 to noon Monday thru Friday. Clerk's days are Monday, Wednesday & Friday Supervisor's day is Tuesday and Treasurer's day is Thursday.  Office is currently closed due to Covid 19 Executive Order.