2020 Helena Township Meeting Schedule
THE COMMUNITY CENTER IS CLOSED FOR GROUP ACTIVITY EFFECTIVE AT 12:01 WEDNESDAY NOVEMBER 18, 2020.     Covid Information 11 17 2020
Ordinance language change / effective November 26, 2020. 
Language change to Helena Township Zoning Ordinance
The Library will remain open but limited in capacity.  Please call 231-331-4318 with any questions.
PICKLEBALL SCHEDULING RULES AND PROCESS
Note from Bonnie Robbins                                        PICKLEBALL rules & reservation process
NO PICKLEBALL UNTIL FURTHER NOTICE–TEAM CAPTIANS WILL BE NOTIFIED
PICKLEBALL SCHEDULE WILL REMAIN THE SAME WHEN THE SHUTDOWN ORDERS ARE LIFTED
Around Our Community  TOWNSHIP NEWSLETTER
Helena Township
Helena Township has many fine features. Coy Mountain walking trail, Depot Park, Tennis Court Park, Ballpark, Safe Harbor, plus 17 public access sites. Helena Township benefits from many groups, including the Alden Volunteers, Helena Township Historical Society, Alden District Library, Friends of the Library, Downtown Alden Business Association, Juniper Garden Club, and Torch Area Artisans Guild.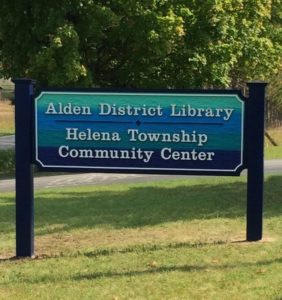 You can reach the Helena Township office at (231)331-4643. Our hours are 9 to noon Monday thru Friday. Clerk's days are Monday, Wednesday & Friday Supervisor's day is Tuesday and Treasurer's day is Thursday.