PLEASE HELP PARKS AND REC BY COMPLETING THE FOLLOWING SURVEY
https://www.surveymonkey.com/r/MXTQSPQ
---
WATCH FOUND AT BALL DIAMOND (after Labor Day 2023).   
CONTACT     boyerM@antrimcounty.org to identify.
---
PICKLEBALL SCHEDULING FOR FALL/WINTER 2023-2024
PB SLOT UPDATE 9 22 2023   CALENDAR
---
Helena Township
Helena Township has many fine features. Coy Mountain walking trail, Depot Park, Tennis Court Park, Ballpark, Safe Harbor, plus 17 public access sites. Helena Township benefits from many groups, including the Alden Volunteers, Helena Township Historical Society, Alden District Library, Friends of the Library, Downtown Alden Business Association, Juniper Garden Club, and Torch Area Artisans Guild.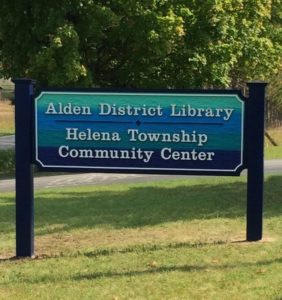 You can reach the Helena Township office at (231)331-4643. Our hours are 9 to noon Monday thru Friday. Clerk's days are Monday, Wednesday & Friday.  The Supervisor's day is Tuesday and the Treasurer's day is Thursday.