2021 Helena Township Meeting Schedule
COVID VACCINE INFO: Those 65 & over can register for the vaccine. Call the Area Agency on Aging at 231-725-5557
ALSO: Register with NWMI District Health Department HDNW – Home (nwhealth.org)
THE COMMUNITY CENTER will reopen for pickleball and limited use beginning January 16, 2020 We are not scheduling any event rentals at this time.
The Library will remain open but limited in capacity. Please call 231-331-4318 with any questions.
PICKLEBALL SCHEDULING RULES AND PROCESS PICKLEBALL rules & reservation process
January 2021 Calendar (Corrected Calendar)
Calendar will also be posted on the bulletin board by the Library
PICKLEBALL SCHEDULE WILL REMAIN THE SAME WHEN THE SHUTDOWN ORDERS ARE LIFTED
Around Our Community TOWNSHIP NEWSLETTER
Helena Township
Helena Township has many fine features. Coy Mountain walking trail, Depot Park, Tennis Court Park, Ballpark, Safe Harbor, plus 17 public access sites. Helena Township benefits from many groups, including the Alden Volunteers, Helena Township Historical Society, Alden District Library, Friends of the Library, Downtown Alden Business Association, Juniper Garden Club, and Torch Area Artisans Guild.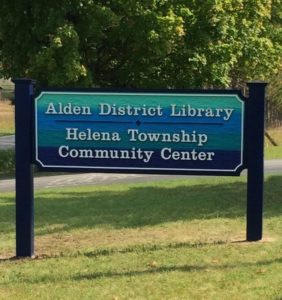 You can reach the Helena Township office at (231)331-4643. Our hours are 9 to noon Monday thru Friday. Clerk's days are Monday, Wednesday & Friday Supervisor's day is Tuesday and Treasurer's day is Thursday.